Explore Panama City Beach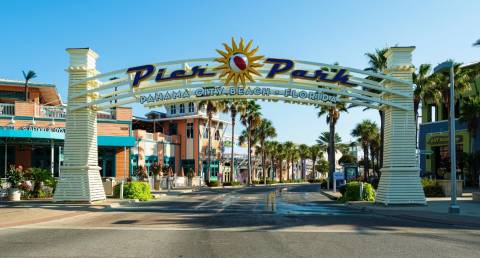 What Panama City Beach, FL Vacations Offer
Panama City Beach is 27 miles of sugar-white sand along Florida's panhandle Gulf Coast. The turquoise waters of the Gulf of Mexico and St. Andrew's Bay offer various different activities for families ranging from shopping to food and games. The area is a popular stop for small and large groups of families and is the perfect day trip for anyone staying in Port St. Joe, Mexico Beach, and Cape San Blas.
For vacationers that are interested in relaxing on beautiful beaches versus shopping or games, the Panama City beach offers stunning white-sand beaches. Another additional perk is that most of the beaches are open to public access making them the perfect daily get-away. Take a break from any hot day at the Shipwreck Island Waterpark. Or, head over to PanamaCityBeach.com to learn about different seasonal activities going on!
The History of Panama City Beach, Florida
The Panama City Beach area, like other surrounding towns, has a rich cultural history surrounding various settlers. A popular historic area of Panama City is historic St. Andrews. Explore the town with free guided walking tours, or, enjoy the city at your own pace with self-guided audio tours. Another popular location to visit is the Panama City Publishing Museum which was founded by George Mortimer West, also the person who named the town Panama City!
Panama City Beach Vacation Rentals
Panama City Beach rentals can range in size and cost depending on the time of year. Vacation rentals in panama city can range from city beach condo rentals, house rentals, and inn suites. Other popular areas surrounding the town include Port St. Joe, Mexico Beach, and Cape San Blas also make amazing vacation spots. These area also tend to offer more amenities such as private pools, pet-friendly beaches, and boutique shopping spots. Rentals in and around Panama City, such as the previously mentioned towns, make great locations for family and friend vacations.